On the morning of September 16th, 2005, Hu Jintao left New York for Vancouver. At a little after 9 a.m., the Chinese motorcade came out of the Waldorf-Astoria Hotel. Someone said that Hu Jintao left with the motorcade, but the Falun Gong practitioners appealing in New York during the last few days did not leave. At 10:40 a.m., several cars of the Chinese delegation came out of the south entrance of the hotel. At the same time, Hu Jintao's motorcade, consisting of about 4 cars, came out the north entrance of the hotel. Practitioners holding banners on the sidewalk spoke out loudly together, "Falun Dafa is Great", "Stop the Persecution of Falun Gong", "Bring to Justice Jiang Zemin, Luo Gan, Liu Jing, and Zhou Yongkang", "Bring to Justice Ruthless Police and Others Who Persecute Falun Gong", and "Hu Jintao, the Time That Heaven and the People Give to You Is Limited".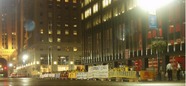 Falun Gong practitioners appealing outside the Waldorf-Astoria Hotel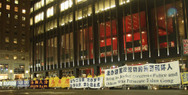 Falun Gong practitioners appealing outside the Waldorf-Astoria Hotel
Hu Jintao arrived in New York on September 13th. Xinhua.net, the CCP's mouthpiece, claimed that 5,000 people welcomed him. Actually there were only around 500 people in the welcome group, which was hired. On the other hand, the practitioners' appeal was grand in scale. When Hu left, only the practitioners saw him off. During Hu's visit to North America, practitioners held peaceful protests everywhere he went and unfurled banners.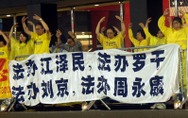 Holding a vigil in the rain
Outside the hotel, practitioners kept vigil for 24 hours a day. After 1 a.m. on September 16th, a thunderstorm came. The practitioners were drenched, but no one left. The practitioners' tireless efforts were aimed at helping Hu Jintao find out the facts about Falun Gong, make a wise choice, stop the persecution and choose a bright future for himself and the Chinese people.
You are welcome to print and circulate all articles published on Clearharmony and their content, but please quote the source.