July 2009 marks ten years of persecution of Falun Gong in China. Falun Gong practitioners around the world have held various activities to support efforts to end the persecution. Practitioners in Sweden went on a car tour to tell people about Falun Gong and raise awareness about the human rights abuses against practitioners in China.
The tour started on July 11, 2009, from Copenhagen, Denmark and continued through five cities: Malm in south Sweden, Borgholm, Helsingborg, Gothenburg, and Linkping.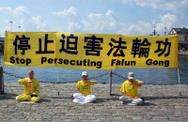 Practitioners demonstrate the exercises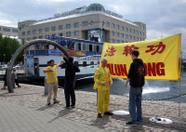 People learn to practise Falun Gong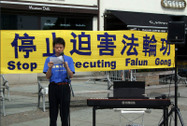 A practitioner who suffered persecution when in China recounts his experience
Falun Gong's Journey in Sweden
Falun Gong, also known as Falun Dafa, was brought to the public by Mr. Li Hongzhi on May 13, 1992 in Changchun, China. Seventeen years later, Falun Gong is practised in over 100 countries around the world. The main book, Zhuan Falun, has been translated into at least thirty different languages.
On April 6, 1995, the founder of Falun Dafa, Master Li Hongzhi, arrived in Sweden to hold five lectures. From April 14-20, Master Li held the second and last overseas Falun Gong class at Nordgarden in Gothenburg. At the time, students were mostly westerners from various cities and all walks of life, such as professors, doctors, nurses, workers, managers, etc. Hundreds learned Falun Gong and truly started cultivation.
There are now practice sites in over thirty cities all over Sweden. The majority of practitioners in Sweden are westerners. Truthfulness-Compassion-Forbearance has been deeply rooted there.
Raising Awareness to Stop the Persecution
The brutal persecution that the CCP started against Falun Gong on July 20, 1999 has resulted in more than 3,000 confirmed deaths and tens of thousands in illegal incarceration. Ten years later, the calamity is still continuing. Those practitioners who benefited from the practice feel heavy-hearted.
In order to introduce Falun Gong to more people, and to expose the CCP's lies and its organ-harvesting atrocities, practitioners in Sweden started a car tour on July 11, 2009, from Copenhagen in Denmark. They have currently completed activities in five different cities (Malmo in south Sweden, Borgholm, Helsingborg, Gothenburg, and Linkping).
The events held in the various cites included photo exhibitions, exercise demonstrations, recounts of personal experiences by practitioners who were persecuted in China, and free exercise instructions.
Anders Eriksson, a graphic designer from Gothenburg, sang songs that he wrote, which tell about the torture that practitioners suffer in China and urge a stop to the persecution as soon as possible.
Dance teacher Kristina presented a dance with her two lovely daughters that she choreographed herself, which conveyed the beauty of Falun Gong and the true meaning of life.
Media Coverage and MP Support
The event gained support from local politicians and the public, and received media coverage. Ms. Marinne Berg, Member of Swedish Parliament, attended the event in Malmo and gave a speech condemning the CCP's brutal suppression.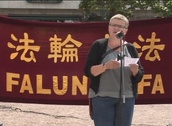 MP Marinne Berg addresses the rally to show support for Falun Gong
When interviewed by the media, MP Marinne Berg said, "I have been paying special attention to Falun Gong. Even though I do not practise myself, I know they have suffered a great deal of hardship. I regard it as my duty to come here to give a speech. I want to voice my concerns over the persecution, the harassment, even killing. As long as the Chinese regime does not respect human rights, I will fight for them (Falun Gong)." She also mentioned that western media have failed to cover the ten years of atrocious persecution. She urged people to do what is in their power to uphold the freedom of belief and speech.

Falun Gong practitioner explains the persecution in China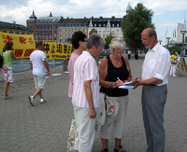 People sign the petition to support Falun Gong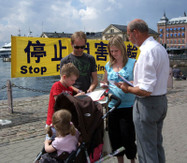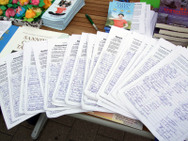 Petition forms full of signatures
Mr. Johan Larson from Helsingborg, Sweden, said, "I know very well that there are no human rights in China. The Communist Party did a lot of bad things. I don't want it to exist any more. You are doing a wonderful thing. Of course I will support you!"
In Malmo, a young man who came for work from Guangzhou, China quit the Communist Youth League on the spot once he learned the truth of Falun Gong.
In Gothenburg, a Chinese lady who came from China a year ago said, "I was thinking Falun Gong must be good, otherwise why would so many westerners follow the practice? They are not idiots. Why is China the only country where the practice is forbidden? There must be something fishy. Now I know, in fact the (CCP's) propaganda is all lies."
Seeing the change in people, practitioners were deeply moved. They said in the next few days the tour would continue to Karlstad and Orebro, and then on to Stockholm.
Background
Falun Gong, also known as Falun Dafa, is a traditional Chinese spiritual discipline for mind and body. The practice involves slow, gentle movements and meditation. It is easy to learn, enjoyable to practise, and free of charge. Its principles are based on Truthfulness-Compassion-Forbearance. The practice began in China in 1992 and quickly spread by word of mouth throughout China and then beyond. Its beneficial effects in uplifting an individual's physical health, spiritual well-being and moral character, not to mention its positive influence in the community and society as a whole, have been undeniable. In fact, Falun Gong is practised by over 100 million people in 110 countries. The main works of Falun Gong are available in over 30 languages.
On July 20, 1999, the Chinese Communist Party (CCP) launched a brutal persecution of Falun Gong. Since the start of the persecution, Falun Gong practitioners throughout the world have been constantly speaking out about the truth of Falun Gong and exposing the CCP's crimes in a tireless effort to end the persecution.
You are welcome to print and circulate all articles published on Clearharmony and their content, but please quote the source.