To mark the ten-year anniversary of the beginning of the persecution of Falun Gong in China, practitioners in Sweden went on a car tour to raise awareness and bring an end to the Chinese Communist Party's (CCP) atrocities. The tour started on July 11, 2009, from Copenhagen, Denmark, and continued through five cities: Malmo in southern Sweden, and Borgholm, Helsingborg, Gothenburg, and Linkping. The practitioners' efforts drew attention from government officials and local media and won support from local people.
Truth-Compassion-Forbearance Has Been Deeply Rooted in Sweden
On April 6, 1995, the founder of Falun Dafa, Teacher Li Hongzhi, arrived in Sweden to hold five lectures. From April 14 to 20, Teacher Li held the second and last overseas Falun Gong class at Nordgarden in Goteborg. Hundreds of people from all walks of life learned Falun Gong and truly started to cultivate.
There are now practice sites in over 30 cities all around Sweden, where Truth-Compassion-Forbearance have been deeply rooted. The majority of practitioners in Sweden are Westerners.
These practitioners, who have benefited from practising Dafa, witnessed how the Chinese Communist Party's brutal persecution of Falun Gong that started on July 20, 1999, has resulted in more than 3,000 confirmed deaths and tens of thousands in illegal incarcerations.
Practitioners Kristina and her husband and their three lovely daughters took part in the tour. She said, "We are visiting different cities to clarify the facts. We have gained support from Swedish government agencies, churches, and non-governmental organisations."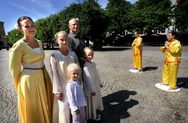 Kristina, her husband, and their daughters
Swedish MP Cecilia Wigström sent a letter to support the practitioners' effort. She mentioned how, twenty years ago, the totalitarian communism in Eastern Europe collapsed. "Ten years ago, the persecution of Falun Gong started. We are responsible to voice our concerns for the persecuted, and uphold Chinese people's rights. The CCP must stop the large-scale brutal persecution!"
Ms. Marianne Berg, Member of Swedish Parliament, spoke at the event in Malmo, condemning the brutal suppression.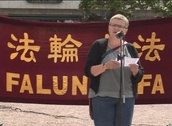 MP Marinne Berg addresses the rally to show support for Falun Gong
When interviewed by the media, MP Marinne Berg said, "I have been paying special attention to Falun Gong. Even though I do not practice myself, I know they have suffered a great deal of hardship. I regard it as my duty to come here to give a speech. I want to voice my concerns over the persecution, the harassment, even killing. As long as the Chinese regime does not respect human rights, I will fight for them (Falun Gong)." She also mentioned that Western media have failed to cover the ten years of atrocious persecution. She urged people to do what is in their power to uphold the freedom of belief and speech.
Jonas Lnn, who is in charge of the council in the City of Kalmar, was horrified to learn about the CCP's atrocity of harvesting organs from living Falun Gong practitioners. "The interest in money is so great that they can even harvest people's organs for sale. It's inhuman."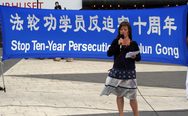 Petra Lindberg, chairperson of a supporting Chinese human rights organization, addressed the rally in Stockholm
Petra Linberg, chairperson of a supporting Chinese human rights organisation, has written articles urging the Swedish government to protest the CCP. She also addressed the rally in Stockholm. She said that the persecution of Falun Gong, which has lasted for ten years, has resulted in many people being incarcerated in forced labour camps where they are subjected to gross mistreat and abuse, so it is very important for people and governments in a free society to take due responsibility.
Background
Falun Gong, also known as Falun Dafa, is a traditional Chinese spiritual discipline for mind and body. The practice involves slow, gentle movements and meditation. It is easy to learn, enjoyable to practise, and free of charge. Its principles are based on Truthfulness-Compassion-Forbearance. The practice began in China in 1992 and quickly spread by word of mouth throughout China and then beyond. Its beneficial effects in uplifting an individual's physical health, spiritual well-being and moral character, not to mention its positive influence in the community and society as a whole, have been undeniable. In fact, Falun Gong is practised by over 100 million people in 110 countries. The main works of Falun Gong are available in over 30 languages.
On July 20, 1999, the Chinese Communist Party (CCP) launched a brutal persecution of Falun Gong. Since the start of the persecution, Falun Gong practitioners throughout the world have been constantly speaking out about the truth of Falun Gong and exposing the CCP's crimes in a tireless effort to end the persecution.
You are welcome to print and circulate all articles published on Clearharmony and their content, but please quote the source.