Retrouvailles is an annual event in Liège, the largest French-speaking city in Belgium. It is held the first weekend of every September. The Falun Dafa Association and over 300 other groups participated in this year's event.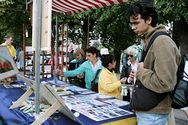 Reading Falun Gong materials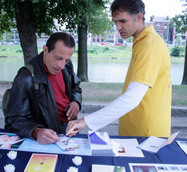 Denoit Henkinet wanted to read Zhuan Falun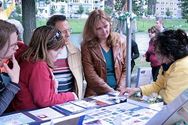 People were shocked to learn about the brutal persecution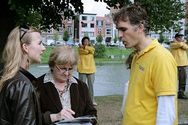 People asked about Falun Gong and how to learn it

A couple that has been to China believe the CCP dictatorship is the root of the persecution
A practitioner explaining the features of Falun Gong practice
This year, the Retrouvailles event was held in the beautiful Parc de la Boverie. The park features art, culture, sports, games, nature, and travel activities, all in one place.
Falun Gong was a very popular addition. People were attracted by the beautiful Falun Gong music, and practitioners were busy explaining to the tourists what Falun Gong is, where to learn it, where to purchase the books, and why the CCP is persecuting this peaceful group.
Denoit Henkinet is a social worker in the government. He said he was doing many things to help others. When a practitioner introduced him the Falun Dafa principals of Truthfulness-Compassion-Forbearance, Mr. Henkinet wanted to find out where he could find a copy of Zhuan Falun straightaway. He said this was what he had been looking for. When a practitioner told him that all Dafa literature is available on the Internet for free downloading, he was happy to note down the website.
Mr. France Stevanato and Ms. Soraya Elakari learned about the principles Truthfulness- Compassion-Forbearance. Then Mr. Stevanato said, "The CCP must not like these three principles. Thank you very much for telling me these three words. I want to buy a copy of Zhuan Falun to read at home." They also left their email address for future correspondence. They wanted to know more about Falun Dafa and also the location of the practice sites,
Ms. He and her daughter told practitioners, "We are here to look for you. Do you have a Shen Yun DVD? We want to watch it so we want to buy a DVD. We did not get to go to Shen Yun when it was on tour in Antwerp."
When practitioners told them that they had no Shen Yun DVDs, the two were very disappointed. Ms. He said, "We know the Shen Yun show is really good. It is a good thing to let people know about Chinese culture. If there are DVDs available, I will give them to my friends."
A practitioner told her that Shen Yun would be coming to Belgium again. Ms. He left the practitioner with her phone number and kept saying, "Thank you."
David Ponce read through the exercise illustrations and asked a practitioner, "Why do I not know Falun Gong? You know, I sometimes sit on my bed in the morning and extend my arms for 15 minutes. It looks like one of the exercise positions on the display board." The practitioner told him that maybe he has a predestined relationship with Falun Gong. Mr. Ponce said he wanted to know more about the practice.
A 17-year-old young man told a practitioner that he could see a light pillar between the hands of a practitioner doing the fifth exercise, the sitting meditation. He was very touched. The practitioenr encouraged him to learn more about Falun Gong.
After learning about the persecution, a middle-aged person told a practitioner, "I went to China and was told by the guide that Falun Gong was brutally persecuted in China. I did not know why. But now I understand that the root of the persecution is the CCP dictatorship."
Many people left their email addresses and phone numbers for future contact. They wanted to know more about Falun Gong events and to come to practice sites to learn the exercises.
You are welcome to print and circulate all articles published on Clearharmony and their content, but please quote the source.