From Friday July 15 to Saturday July 23, 2011, Falun Gong practitioners held a one-week tour of Slovak cities with a petition opposing the persecution of Falun Gong in China. The practitioners visited Bratislava, Piestany, Zilina, Ruzomberok, Liptovsky Mikulas, Spisska Nova Ves, and Poprad. The petition was a request to Slovak state officials to raise the question of the persecution of Falun Gong in China in negotiations with Chinese delegations. More than 2,100 people signed the petition during the tour, which brought the total number of signatures on this petition to over 5,000.
During the tour, people usually reacted to the information regarding the persecution of Falun Gong in China with surprise and asked how they could help. One lady in Zilina asked for a pile of flyers, because she wanted to distribute them in the city of Banska Bystrica, which was not visited during this year's tour. Some people also brought their friends and family members to sign the petition. Some expressed their support verbally.
Encouraging situations also occurred, where a negatively tempered person slowly changed over the course of practitioners' clarifying the truth, showed sympathy toward Falun Gong, and even signed the petition.
Local media also showed interest. A TV station in Piestany and newspapers in Liptovsky Mikulas and Poprad carried news about the tour and informed people about the petition.
A practitioner is interviewed by the media in Piestany

Sending forth righteous thoughts in Zilina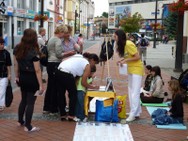 Signing the petition in support of Falun Gong in Liptovsky Mikulas

People in Poprad show their support
You are welcome to print and circulate all articles published on Clearharmony and their content, but please quote the source.