From November 11 to 17, Falun Gong practitioners from Turkey held a photo exhibition titled "Peaceful Resistance" in Adana, the fourth largest city in Turkey. Many local citizens went to the exhibition.
The exhibition was held at TasMekan Exhibition Centre. Fifty-five photos were arranged into three themes: Falun Gong Takes Root in China, The Persecution of Falun Gong in China, and Peaceful Resistance Worldwide.
Many local citizens expressed their support for Falun Gong and condemned the persecution after viewing the photos. Some of them also learned the exercises at the exhibition.
Mr. Bulent, the owner of the exhibition center, is very supportive of Falun Gong. He offered the exhibition hall to practitioners for free. He commented that he was happy to help them and that the door of his center was always open to practitioners.
Mr. Onur, a famous local musician, told practitioners that he was deeply moved by the photos. He wanted to introduce Falun Gong to the members of a local German culture association.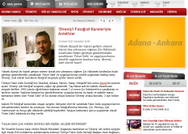 The report on Ihlas News Agency
Several local media interviewed practitioners and reported on the exhibition. Ihlas News Agency, one of the largest news agencies in Turkey, published the report on their website: http://www.haber01.com/direnis-i-fotograf-kareleriyle-anlattilar-h81688.html. Hurriyet, the largest newspaper in Turkey, also reported on the exhibition in its local edition.
Next, the exhibition will be held in Urfa, Turkey.
You are welcome to print and circulate all articles published on Clearharmony and their content, but please quote the source.