The Swedish non-profit Arts and Culture organisation held the "Truthfulness-Compassion-Forbearance" Art Exhibition in the City of Örebro from November 12-26, at a business centre in the middle of the city. 31 of the 65 works of art were on display.
"Suprising Örebro" is the city's motto, and certainly apt, as the exhibition surprised the residents with its magnificent and touching paintings. The artists are Falun Gong practitioners, some of whom have been subjected to persecution and torture in China.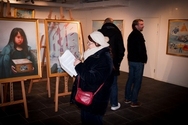 Visitors view artwork at the exhibition in Orebro, Sweden.
At the opening ceremony, county governor Rose-Marie Frebran, and the chairman of Cultural and Civic Committee, Behcet Barsom, made opening remarks that referred to the theme of human rights portrayed in the artwork.

County Governor Rose-Marie Freban
Frebran welcomed the exhibition as "a thought-provoking guest" to Örebro. "Art and culture should decorate, entertain, engage and influence. The words, sounds, colors and the brush cannot be suppressed under any power," she said. "The exhibition opens a door to rooms that we are not accustomed to living in, but we now have insight into."
"Art is always great when it is set free," said the governor. "I hope that when our political representatives in Sweden meet those in power in China they always in discussions take up human rights issues, and highlight the need to introduce human rights, for it can be said that they do not exist in China."
"You can't build up a good society without respecting individuals and without being able to live in freedom, no matter what kinds of opinions, beliefs or whatever it is, we express. This is something that we have actually agreed on in the international community, meaning that everyone is entitled to the rights that we have adopted in the United Nation's Declaration of Rights and Freedoms."
Freban also mentioned that it would be good for Orebro residents to come out and see the exhibition. "We need to be aware of there are many people who are forced [to live under such difficult conditions], and we need to stand up for human rights."
Chairman of the Cultural and Civic Committee, Behcet Barsom, has himself experienced how one can become a victim of human rights violations, because his parents were forced to flee from their homes. His parents came from Turkey to Sweden in the mid-1970's, so he knows how the machinery of power can treat its citizens with discrimination and violations, resulting in injustice. For them there was no other alternative than to flee.
China is a closed country, which prevents foreign media from getting an insight into the reality there. Over the Internet, the real situation in the country has leaked out "through reports of how people are tortured, executed and imprisoned, or otherwise violated, which is sufficient to make you feel disgusted," said Barsom.
"These artists that we see today in this hall are not silent; their art speaks to us. Let us listen to them and let us together attune to their belief that human rights should be respected. It is our duty to those who daily live in oppression," he said.
The general impression Barsom had of the exhibition was "very strong" and "expressed with clarity." He said he knew a lot of the things the artists wanted to convey, both personally and from what his grandfather, father, and mother had told him about their earlier experiences.
"There are many things I recognize. What makes me sad is that people don't learn from history and the past. What is so terrible is that it still continues today."
Barsom believed that while both large and small countries can hide mistreatment of their citizens, in China it is easier because the country is a world power today, and can thus buy the world's silence.
"The painting that impressed me most was 'An Orphan's Sorrow'. My grandfather said that he was also left orphaned, at the age of seven. He went to a foster home, was mistreated, and escaped from there. I can't understand how one can do that to a child," he said.
The "Truthfulness-Compassion-Forbearance" Art Exhibition visited the Swedish towns of Gothenburg and Hedemora earlier this year, attracting many visitors. Up to today, the artwork has been shown in over 40 countries and 200 cities around the world.
Reference (Swedish):
http://www.epochtimes.se/articles/2011/11/16/22329.html
You are welcome to print and circulate all articles published on Clearharmony and their content, but please quote the source.