From November 23 to 27, 2011, Falun Dafa practitioners held a "Peaceful Journey of Falun Dafa" photo exhibition in Urfa, a historic, ancient city in southeastern Turkey. The exhibition was held to raise awareness about Falun Gong and the brutal persecution by the Chinese Communist regime.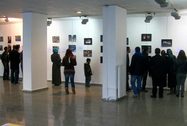 Every day the exhibition attracted a lot of visitors.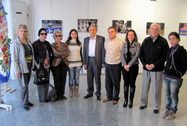 Mayor of Urfa (middle) and staff members take a group photo with Falun Gong practitioners.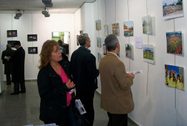 Visitors viewing the photos.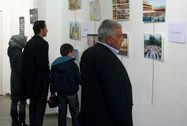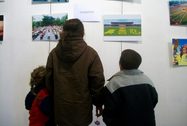 A mother and her two children learn about Falun Dafa.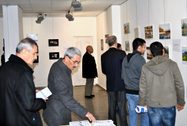 Visitors take informational materials with them.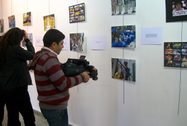 A television reporter takes footage of the exhibition.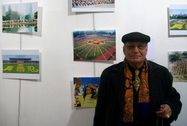 Mr. Mehmet Ucar, a well-known collector.
On the first day of the exhibition, having heard about the news, a major local radio program production team came and did live coverage for about fifteen minutes. During the report, Ms. Didem, a well-known broadcaster invited Falun Gong practitioners to give a brief introduction about Falun Gong and to talk about the persecution of Falun Gong in China. Many visitors came to view the exhibition after hearing the broadcast.
During the five days of the exhibition, a continuous flow of visitors came to view the photos. The exhibition also attracted media attention.
Mr. Ahmet Fakibaba, mayor of Urfa, attended the exhibition. The mayor said that Falun Dafa's principles of "Truthfulness, Compassion and Tolerance" were very important. He said the message of the exhibition was very good and inspiring.
Having viewed all the photos, Mr. Mehmet Ucar, a well-known collector, had a long chat with a Falun Gong practitioner. Mr. Ucar said he was deeply touched by the photos and expressed his sincere thanks to Falun Gong practitioners who had brought the exhibition to Urfa.

Mr. Remzi Kara, a famous painter
Mr. Remzi Kara, a famous local artist came to visit the exhibition multiple times. He said that he was impressed by the photos and by the goodness of Falun Dafa.
On the last day of the exhibition, practitioners were invited to Balikli Gol, a lakeside community where over 20 people wanted to learn Falun Gong. The practitioners who went there to teach the exercises were warmly received and treated with hospitality.
Turkey's two newspaper giants, Hurriyet and the Milliyet both reported on the exhibition and Falun Gong instruction activities nationwide. Kanal D, a well-known television station in Turkey, also reported on the exhibition and people in Urfa learning Falun Gong exercises.
You are welcome to print and circulate all articles published on Clearharmony and their content, but please quote the source.